Support Your Patients' Weight Loss Goals…And Your Practice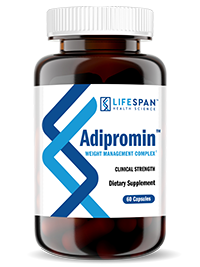 Lifespan Health Science is a purpose-driven company, passionate about helping people live their best lives. We are health professionals, scientists, researchers, and innovators of ingredients and products. We work with the best of nature to create life-enhancing supplements and functional foods.
At Lifespan, we believe that healthy weight management is about more than shedding pounds. Healthy and sustainable changes to body weight must involve supporting other related systems, like cardiovascular and metabolic health. The clinical trials of Adipromin Weight Management Complex validate its role as part of an integrated holistic health management program. Adipromin has been shown to affect not only body weight and BMI, but also lean body mass, blood lipids, and underlying biochemical mediators—such as adiponectin—that control visceral adiposity, glucose regulation, insulin sensitivity, inflammation metabolism, lipid metabolism, and more.*
Trust is an essential aspect of our work with the healthcare practitioners who recommend our products. Your work with your patients is of paramount importance to us. We are here to help enhance your relationships with your patients. Contact us to find out more about how we can work together – to develop a program that fits your practice and your patients' needs.
*These statements have not been evaluated by the Food and Drug Administration. This product is not intended to diagnose, treat, cure, or prevent any disease.