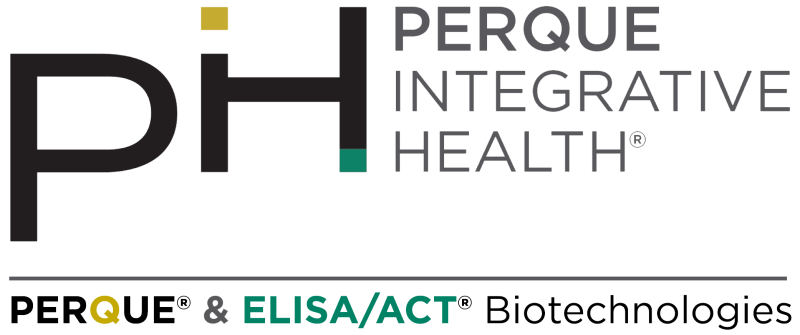 PERQUE Integrative Health (PIH) is ReThinking Health. Dedicated to speeding the transition from sickness care to healthful caring, PIH delivers novel, personalized health solutions to achieve sustained optimal wellness.
Combining the best in functional, evidence-based testing with premium professional supplements, and healthful lifestyle guides, PIH solutions deliver successful outcomes in even the toughest cases.
PERQUE Integrative Health is:
A complete line of 100% bioavailable, active, novel nutritional supplements. A pioneer in using all active ingredients, full disclosure labels, and third-party post-production testing to confirm potency and purity, PERQUE has earned the highest level of trust from healthcare professionals and their patients for more than 25 years.
Pioneers in functional, evidence-based tests that have helped practitioners solve clinical mysteries for more than 30 years. Exclusive providers of LRA by ELISA/ACT tests - the gold standard in delayed hypersensitivity testing. LRA is a first-line test to identify the hidden immune system burdens that cause chronic conditions and prevent full recovery. Combined with Predictive Biomarker testing and the optional Health Assessment Questionnaire (HAQ) interpretation and rotation diet, LRA results provide patients a complete program for restoring immune resilience and achieving optimal wellness.
Comprehensive EAT, DRINK, THINK & DO lifestyle program and self-assessments to re-establish balance and achieve personalized wellness goals.
PERQUE Integrative Health's comprehensive Well Guard System™ is bringing all three of the above components together, with tools to help practitioners achieve better outcomes.
Dr. Russell M. Jaffe, CEO and Chairman of PIH is one of the pioneers of integrative and regenerative medicine. Since inventing the world's first single step amplified (ELISA) procedure in 1984, a process for measuring and monitoring all delayed allergies, Dr. Jaffe has continually sought new ways to help speed the transition from our current healthcare system's symptom reactive model to a more functionally integrated, effective and compassionate system. PIH is the outcome of years of Dr. Jaffe's scientific research. It brings to market three decades of rethinking safer more effective, novel and proprietary dietary supplements, supplement delivery systems, diagnostic testing, and validation studies.