Emerson Ecologics, a supplier of professional-grade nutritional supplements to integrative healthcare professionals, recently launched a conference designed to educate practitioners about the fundamentals of the business of medicine. 
"The IGNITE Conference was developed based on direct feedback from our customers who told us about the challenges they face when trying to build a successful integrative practice," said Andy Greenawalt, president and chief executive officer of Emerson Ecologics. "More often than not, business education is missing from professional curriculums, even though we know it is foundational knowledge needed as small business owners."
Nearly 200 healthcare professionals from diverse backgrounds, including chiropractic, naturopathic, and medical physicians, attended the conference at the picturesque Omni La Costa Resort & Spa in Carlsbad, California, November 13-15, 2015. 
"Unfortunately, being a great doctor isn't enough to guarantee a thriving practice," said conference attendee Susan Plank, DC. "At first I was hesitant about attending this conference because I thought no one knows the problems I'm experiencing in my practice. I couldn't have been more wrong." Plank said she gleaned significant practical information that will help her take her practice to a whole new level of success. She would recommend the conference to her colleagues, she said. "I can't wait for next years event."
"I enjoyed attending the conference because it was different than other conferences I've attended," said Trevor Cates, ND. "Practice management and marketing are not topics we receive enough training on in medical school."
The conference kicked off with an inspiring keynote by Jeffrey Bland, PhD. "We are at the dawn of a new age," said Bland. "Medical nutrition therapy will emerge as a primary therapy in healthcare." 
According to Bland, "We have reached the intersection between need and opportunity. The old healthcare model has its obituary written; it's just not published yet. We need to publish it quickly."
Tieraona Low Dog, MD, was scheduled to present the closing keynote but could not attend due to injury. Lise Alschuler, ND, FABNO, stepped in to deliver a moving presentation titled, "Who Heals the Healer?" Alschuler shared patient stories and insight from her own journey as a cancer survivor to illustrate the importance of finding ways to reduce risk of burnout and stimulate individual healing on a mind-body-spirit level.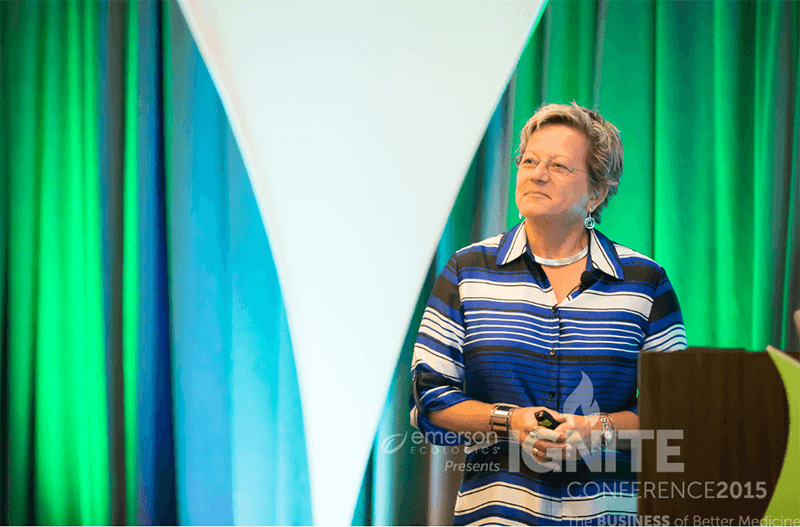 During the conference, attendees could choose from sessions on clinic operations, patient compliance and retention, leveraging technology, sales and marketing, and work-life balance to earn up to 11.5 continuing education credits for naturopathic physicians. Twenty exhibiting companies and other sponsors supported the event.
The conference successfully delivered the message that if integrative practitioners are going to step into a leadership role in the emerging healthcare system Bland talked about, they need to be successful business people in addition to providing exceptional patient care.
"At Emerson Ecologics we envision a future where integrative medicine is considered foundational in our healthcare system," said Greenawalt. "This will give patients a greater number of ways to work with integrative practitioners as they pursue personal wellness."
Conference organizers say there will definitely be another IGNITE Conference and look forward to sharing 2016 details very soon.