Partners
The Natural Medicine Journal uses an unrestricted sponsorship model to minimize advertisement in the journal and online. In doing so, we've aligned with the highest quality companies in the integrative healthcare arena. Visit our sponsors' websites to learn more and join us in thanking them for their support of the Natural Medicine Journal:
---

For over 30 years, Designs for Health (DFH) has been at the forefront of the natural and integrative medicine movement inspired by the vision of designing a well world™ for all. With over 320 researched-based nutritional products with quality-tested formulas, we continue to pioneer new approaches to nutritional science through a robust innovation pipeline, paired with uncompromising support and commitment to our practitioners' ever-evolving needs.
---

EpiCor®, the leading postbiotic brand, is a one-of-a-kind gut microbiome modulating ingredient clinically shown to support immune and digestive health. With 75 years of fermentation expertise, EpiCor® postbiotic helps people live more healthy days.
---

Nutritional Fundamentals for Health, Inc. (NFH)
Bridging the gap between nutraceuticals and evidence-based medicine.
---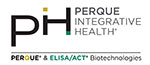 PERQUE Integrative Health (PIH) is ReThinking Health. Dedicated to speeding the transition from sickness care to healthful caring, PIH delivers novel, personalized health solutions to achieve sustained optimal wellness.
---

Rupa Health is a tool that reduces the time spent ordering specialty labwork by up to 90% and provides access to 20+ specialty labs and over 1,920 tests (DUTCH, Doctor's Data, ZRT, etc).
---
Sponsorship and Advertising Policies
To maintain the integrity of Natural Medicine Journal, the following policies apply to all advertising and sponsorship:
Unsubstantiated health claims are prohibited in all advertisements.
Advertisers have no influence over or connection to content within the publication.
Publisher has the right to refuse an ad for any reason.
Advertising and sponsored material will always be clearly distinguishable from editorial content.
Advertisers must adhere to all applicable FTC advertising guidelines.
If you would like to learn more about advertising in or sponsoring Natural Medicine Journal, please contact Carmella Perrone, Group Sales Manager.