The Arizona Grand Resort and Spa was the setting once again for this year's conference of the Oncology Association of Naturopathic Physicians (OncANP) where 195 attendees and a variety of exhibitors enjoyed exceptional content, healthy cuisine, and comfortable camaraderie. 
"This year we were proud to feature a wonderful line up of speakers who covered a wide range of topics including prevention through remission, restoring physical health after treatment, and ways to enhance mental, emotional and spiritual health," said Corey Murphy, OncANP's executive director.
Conference attendees could earn a total of 16 continuing education credits and 5.5 pharmacy credits. For the first time, there were 2 sessions that featured cancer survivors as speakers. Jan Adrian, founder of Healing Journeys, Sacramento, California, spoke about her own healing journey and how she has managed cancer as a chronic illness. Cancer survivor Sandra Lorde Michael joined Siri Chand Khalsa, MD, to discuss the impact of epigenetic influences on recovery and healing.
A variety of other topics were covered including
metronomic chemotherapy,
sexuality after prostate cancer,
end-of-life patient care with compounded medications,
hematological malignancies,
lymphoma,
hydrotherapy,
insulin-like growth factor,
estrogen metabolism, and
treatment-related side effects.
Lise Alschuler, ND, FABNO, and Tina Kaczor, ND, FABNO, ended the conference by highlighting significant studies that were published in 2014.
Also during the conference, Alschuler and Jacob Schor, ND, FABNO, presented a lifetime achievement award to Davis Lamson, ND, who has been a staff physician at Tahoma Clinic in Washington since 1988. "Davis is deserving of this award for a slew of reasons including his oncology teaching to generations of students at Bastyr University, his research contributions, his devotion to patient care, and most importantly his long-time support and persistence in pushing the profession forward," said Schor.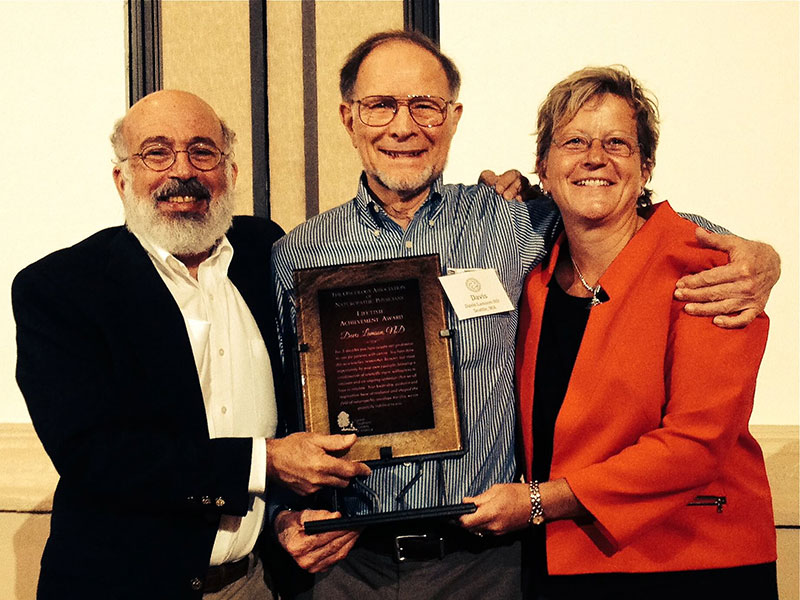 OncANP board members, Jacob Schor, ND, FABNO, and Lise Alschuler, ND, FABNO, present Davis Lamson, ND (center), with a lifetime achievement award at the 4th Annual OncANP Conference held recently in Phoenix, Arizona.
During the annual meeting held at the conference, it was announced that the organization has grown to more than 400 members and the number of members who have advanced training as fellows of the American Board of Naturopathic Oncologists (FABNO) has grown to more than 100. The board of directors of the OncANP includes the following oncology experts:
Lise Alschuler, ND, FABNO, President
Heather Wright, ND, FABNO, Vice-president
Jen Green, ND, FABNO, Treasurer
Jacob Schor, ND, FABNO, Secretary
Katherine Neubauer, ND, FABNO
Gurdev Parmar, ND, FABNO
Dugald Seely, ND, FABNO
"The OncANP is a wonderfully engaged organization composed of highly active and bright members who are committed to advancing the science and art of naturopathic oncology," said board member Seely, founder and executive director of the Ottawa Integrative Cancer Centre. Noting that 30% of the OncANP members hail from Canada, Seely said, "Cancer is the number one killer in Canada, and Canadian NDs are hungry for good content, and this conference and this organization delivers that."
"I would recommend this conference to my colleagues because cancer is so relevant to so many of our patients," said attendee Anne Marie Lambert, ND, who has been in private practice in Hawaii for 21 years. "My first day back at the clinic after the conference I had a new patient with chronic lymphocytic leukemia, and I had all of the recent research right at my fingertips."