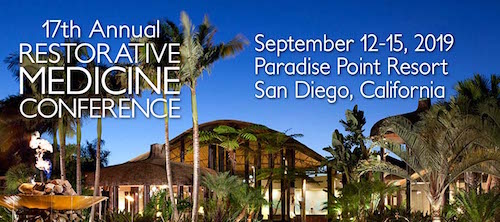 The 17th Annual Restorative Medicine Conference will feature expert speakers with strong clinical and research backgrounds, offering decades of experience to share. Faculty includes Dr. Tieraona Low Dog, Dr. Donald Abrams, Dr. Decker Weiss, Kevin Spelman, PhD, and many other experts.
Here's a sample of what you'll learn:
Using herbs and nutrition for counteracting xenoestrogens, and balancing estrogen excess
Diet and botanical medicine for endometriosis and PCOS
The mechanisms of phytoestrogens and their safety related to gynecological cancers
How toxins influence the hormonal milieu
Naturopathic perspectives on dilated cardiomyopathy, arrhythmias, and hypertension
Adaptogenic herbs for adrenal and autonomic nervous system dysfunction
Mitochondrial dynamics and their ubiquitous role in human health
Cellular mechanisms in botanical medicine
Phytotherapeutics for regulating and optimizing mitochondrial activity
Register Here: restorativemedicine.org/sandiego
There are many choices to enhance your conference experience and have fun. Choose from three intensive tracks on the preconference day, optional activities on Saturday afternoon such as herb walks and a hands-on herb workshop, plus morning yoga, a networking event on Thursday evening, and a kava party on Saturday night.
Continuing Education Credits
Earn up to 29 CE credits, including 10 Pharmacology CE credits. Continuing education credits will be available for all healthcare professionals. See website for details [https://restorativemedicine.org/conferences/2019-annual-conference/#nav-4]
Contact [email protected] for more information, or call 866-962-2276.