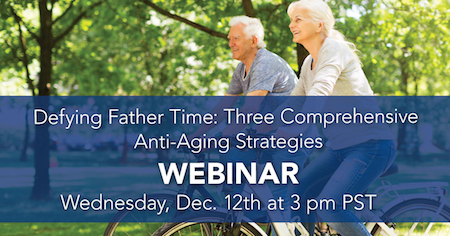 December 5, 2018
Allergy Research Group announces its next webinar: Defying Father Time: Three Comprehensive Anti-Aging Strategies to take place on December 12th at 3:00 p.m. PST.
Carrie Decker, ND, discusses the data behind three comprehensive solutions that address age-related joint and skin changes, metabolism, energy, and libido. Berberine, an alkaloid found in common plants such as Oregon grape, acts on many levels to improve metabolic function. Salmon cartilage derived proteoglycans, a new ingredient to the supplement industry, improve joint function and skin appearance. Finally, adaptogenic herbs support energy, sexual health, cognitive function, and mood.
The webinar will last 45 minutes, including a 5-minute Q & A session. A special discount offer on Allergy Research Group products will be revealed to live attendees before the webinar ends.
We hope you can join us live on Wednesday, December 12th at 3:00 pm PST. If not, signing up will still grant you access to the webinar recording.
Register: https://zoom.us/webinar/register/WN_TXDhv3hHTU-59LFDdKIL2Q
A link to a recording of the webinar will be emailed to all registrants.
Contact
Allergy Research Group Marketing Department