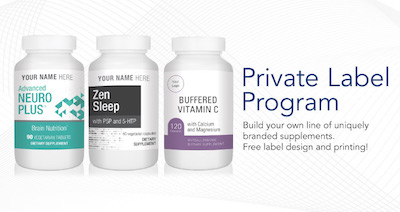 FOR IMMEDIATE RELEASE
Allergy Research Group Increases Private Label Products to Choose From
Alameda, CA – Did you know that Allergy Research Group offers private labeling for over 90% of our products? You can now choose from 250 products to create your own line of uniquely branded supplements. No setup fees, fast turnaround time for orders, and an industry-leading minimum of 12 bottles per product!
Choose between one of our pre-made designs or send us your custom logos and we'll design a label that matches your unique brand. Don't worry about FDA and FTC label requirements; we'll take care of all that for you. Choose a name for your product and make it truly unique in the market.
To learn more about our private labeling services, visit https://www.allergyresearchgroup.com/private-label, or call our customer service team at 1-800-545-9960, extension 2.
CONTACT
Dan Mallar, National Sales Director
Come meet us and see what's new! We'll be exhibiting at the following conferences in 2018:
October 4-7 AAEM Annual Meeting - Wesminster, CO
October 6-7 WANP Annual Clinical Conference - Lynwood, WA
October 12-13 IntegrativeMN Conference - Minneapolis, MN
October 20 NAEM Clinical Tools and Applications Conference - Irvine, CA
October 26-28 PCOM Pacific Symposium - San Diego, CA
November 1-4 ILADS Tick-Borne Diseases and Immune Conference - Chicago, IL
November 2-4 Future of Integrative and Regenerative Medicine - San Diego, CA
November 7-9 ACN Personalized Nutrition Conference - Renton, WA
November 8-10 ACAM Critical Updates Conference - Las Vegas, NV
December 1-2 OANP 22nd Annual Conference - Portland, OR
December 13-15 A4M - Annual World Congress - Las Vegas, NV
Visit our conference calendar page for more details: https://www.allergyresearchgroup.com/conference-schedule