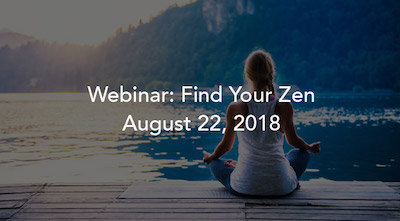 Wednesday, August 22, 2018 at 3 p.m. PST
In this webinar, Carrie Decker, ND, will discuss the mood-balancing blends available including two new additions to our Zen Suite: Zen Adapt with Sensoril® and Zen Sleep with P5P and 5-HTP, which join our best-selling products 200 mg of Zen and Liposomal Zen.* Along with this, learn about the new PhytoEFA Full Spectrum EFA-Phytocannabinoid Blend, and an extract from the deep sea blue ling fish (Stabilium® 200), which supports a balanced mood and function in the face of stress.* The webinar will be 20 minutes followed by a Q & A session.
Register today to reserve your spot for this webinar: https://zoom.us/webinar/register/WN_LBKS3CeKT4WDnYijvQCnGg
Sensoril® is a trademark of Natreon, Inc. and is protected under U.S. Patents 6,153,198 & 7,318,938.
*This statement has not been evaluated by the Food and Drug Administration. This product is not intended to diagnose, treat, cure or prevent any disease.
_________________________________________________________________
Save-the-date for these upcoming webinars:
Date and Time: September 19th, 3:00 – 3:30p PST
Topic: Allergy Research Group Product Updates and Announcements
Description: Dr. Todd Born, ND discusses new products (available now or very soon!) and product enhancements and updates coming through the pipeline from Allergy Research Group.
Date and Time: October 17th, 3:00 – 3:30p PST
Topic: Seasonal Immune Support: How Immunobiotics Combined with Algae or Seaweed-Derived Substances Offer Comprehensive Immune Protection
Description: Dr. Erica Zelfand, ND discusses what immunobiotics are, and how these, and compounds from bladderwrack and chlorella can support immune system function.
For further information and to be put on the email list for notification of these, and additional upcoming webinars or educational information, please contact [email protected]