For Immediate Release
Allergy Research Group is pleased to announce CurcuWIN® 500, providing turmeric (Curcuma longa) root extract with significantly higher absorption compared to other curcumin ingredients.
In the first curcumin study of its kind to compare commercial curcumin products, CurcuWIN® showed increased relative absorption of total curcuminoids 46-times over standard curcumin.* This well-controlled human clinical trial also demonstrated that CurcuWIN® has longer-lasting action with higher serum concentrations after 12 hours.*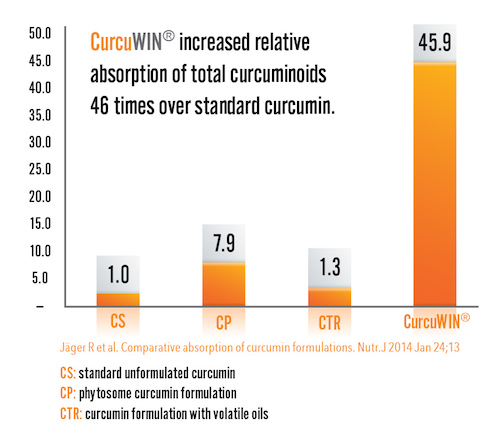 CurcuWIN® curcumin uses a molecular dispersion process (Ultrasol technology) which converts oil soluble nutrients into water-dispersible ingredients to enhance bioavailability and retention.* CurcuWIN® 500 is concentrated to minimum 20% curcuminoids, 500 mg per capsule.
Key Features
Curcumin supports the overall body, including the musculoskeletal system, GI tract, liver and gallbladder, brain, lungs, skin, and urinary system*
CurcuWIN® supplies curcuminoids in the same profile as found naturally in turmeric
UltraSOL Delivery System increases relative absorption of total curcuminoids over standard curcumin by 46-times and has higher serum concentrations after 12 hours*
Better absorption, protection, and retention provides benefits at a lower dose than other forms of curcumin*
To learn more about CurcuWIN® 500, visit the ARG web site, or call our customer service team at 1-800-545-9960, extension 2.
CONTACT
Allergy Research Group, LLC.
Dan Mallar, National Sales Director
*This statement has not been evaluated by the U.S. Food and Drug administration. The product is not intended to diagnose, treat, cure, or prevent any disease.

CurcuWIN® is a registered trademark of OmniActive Health Technologies, Ltd.