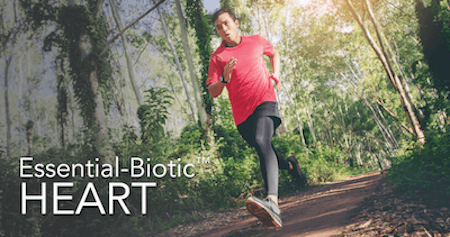 Alameda, CA – FOR IMMEDIATE RELEASE
Allergy Research Group continues its heritage of bringing innovative nutritional supplements to the professional market by expanding our new, premium quality Essential-Biotic™ line of probiotics. All of the products in the Essential-Biotic™ line are shelf-stable, gluten-free, and non-dairy.

Essential-Biotic™ HEART with LRC™ and CoQ10 contains the clinically studied strain Lactobacillus reuteri NCIMB 30242 (LRC™) and CoQ10 in delayed-release capsules (DRcaps™ ).* In addition to gastrointestinal benefits, this probiotic strain along with CoQ10 provides synergistic support for the cardiovascular system, and helps support a normal, healthy lipid balance in the blood.*
Lactobacillus reuteri LRC™ is shown to support normal, healthy cholesterol and vitamin D levels in the blood, and promotes overall digestive system health*
Coenzyme Q10 is shown to enhance production of cellular energy (ATP) and support the function of the cardiovascular system*
DRcaps™ are clinically shown to protect probiotics from harmful gastric acids*
Coming Soon! Essential-Biotic™ SYNBIOTIC with DDS®-1, UABla-12™ and XOS is a synergistic blend of two clinically tested strains of probiotics along with PreticX™ xylooligosaccharides (XOS).* Health benefits of XOS typically have been observed at one to five grams per day, a lower dose than required for other prebiotics such as fructooligosaccharides (FOS).*

To learn more about these products, visit www.allergyresearchgroup.com, or call our customer service team at 1-800-545-9960, extension 2.

CONTACT:
Dan Mallar, National Sales Director
[email protected]

DDS®, UABla-12™, and LRC™ are trademarks of UAS Laboratories, LLC and used under license.

PreticX ™ is covered by registered and pending U.S. Patents. PreticX™ is a trademark of AIDP, Inc. PreticX™ is distributed exclusively by AIDP, Inc.



With DRcaps ™ Delayed Release capsules. DRCAPS and DRCAPS and Design are trademarks used under license.