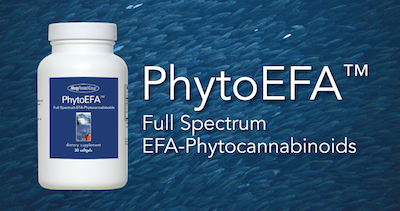 Alameda, CA – FOR IMMEDIATE RELEASE: Allergy Research Group continues its heritage of bringing innovative nutritional supplements to the professional market with PhytoEFA ™. PhytoEFA™ is a blend of full spectrum essential fatty acids (EFAs) including EPA, DHA, GLA, and oleic acid, along with unmodified hemp oil with naturally occurring phytocannabinoids, enhanced with sunflower lecithin.*
These ingredients are responsibly sourced and can be traced from farm or ocean to bottle, ensuring a high quality product.** The hemp oil's natural phytocannabinoid content is unmodified, ensuring it may be safely used every day.* Non-GMO sunflower lecithin is added to promote optimal absorption.* Environmentally-responsible, lab-tested oils meet or exceed all domestic and international standards.**
To learn more about PhytoEFA™, visit https://www.allergyresearchgroup.com/phytoefa-30-softgels, or call our Customer Service team at 1-800-545-9960, extension 2.
CONTACT:
Dan Mallar, National Sales Director
[email protected]
*This statement has not been evaluated by the U.S. Food and Drug administration. The product is not intended to diagnose, treat, cure, or prevent any disease.
**The fish oil supplier has been recognized by Friend of the Sea (FOS) with its sustainability certificate.