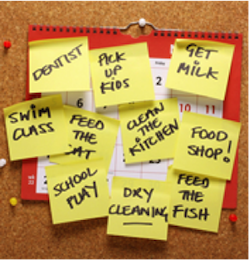 Fall is approaching, and so is back-to-school time. With the morning rush to get out of the door, it's not always easy to make sure that our families have well-balanced meals in the morning. Sending kids off to college makes it even harder to know they are following the good health habits they have at home. Even if we are able to maintain an optimal diet, we know that healthy eating is not enough to deliver the nutrients we need. In the 21st century, supplementation is essential. (Read Better Supplements Essential.)
Supplementing with a professional-quality, highly bioavailable multivitamin is key to ensuring that we are consuming essential elements that pave the way to optimal health. Start the school year off right by tuning up your family's immune system and making sure that foundational nutrient requirements are met. The PERQUE Life Guard™ super multivitamin/mineral family and LRA tests can help you get the school year off to a great start. Learn more below!
PERQUE Life Guard™ family of super multis proven in double-blind, placebo-controlled study
In a placebo-controlled study, PERQUE Life Guard™ was assessed on physically active men in a high-stress environment. After 12 weeks, participants had significant and sustained increases in measured nutrients, including thiamine (vitamin B1), riboflavin (B2), pyridoxal phosphate (B6), cobalamin (B12), pantothenate, and biotin. All showed full uptake of label potency. At the end of the study, increases were as high as they were at the beginning. This meant the bodies needed the higher nutrient levels and did not "adapt back" to lower levels.1  Read more here.
Learn more about PERQUE Life Guard
Tune in to the PERQUE Integrative Health Facebook LIVE interview with PERQUE Founder, Dr. Russell Jaffe.
LIVE Today at 2:30 PM Eastern

PERQUE Life Guard™ Family
Essential Nutrients That Protect the Whole Family*
PERQUE Life Guard™
40 essential nutrients that protect the heart, body, and brain.*
Protects the cardiovascular system through vitamin E and tocotrienols.*
Enhances and protects the immune system.*
Also available in a smaller, easier-to-swallow PERQUE Life Guard Mini tabsules.
PERQUE Life Guard Mini™ tabsules have all the same proven benefits of original PERQUE Life Guard™ tabsules, but come in a smaller, easier-to-swallow size. The same advanced, 100% active ingredient formula proven in a placebo-controlled study. Half the dose, half the size, easier to take.
Healthcare practitioners, request samples here.