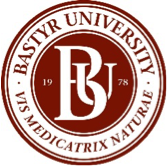 For Immediate Release
KENMORE, WA (June 12, 2018) – The Bastyr University Board of Trustees unanimously voted today to appoint Harlan Patterson as University President. Mr. Patterson stepped into the office as Interim President in July 2017, following nearly six years of service on Bastyr University's Board of Trustees, and has continued to guide the University in the execution of its five-year strategic plan.
Prior to his role as Interim President, Mr. Patterson served in a number of executive capacities with the University of Washington, including Vice Chancellor for Finance and Administration at University of Washington Tacoma, and as Executive Director of the Washington Vaccine Alliance.
"Mr. Patterson has provided steady leadership amidst a challenging time and has identified key goals to advance Bastyr's mission and the welfare of its students," says Tayloe Washburn, representing the Bastyr University Board of Trustees. "Looking forward, we are well served by a leader with the experience and acumen he has already demonstrated. Now in our 40th year, 2018 is a time of tremendous change and growth for Bastyr and for the natural health movement. We are thrilled to have Mr. Patterson on board in a permanent capacity and know he will continue to provide strong leadership during this pivotal time in the institution's history."
Mr. Patterson holds an MBA from the University of Washington and a Bachelor's in Business from Montana State University. He is an experienced finance and administration leader within both the higher education and health care arenas, able to effectively direct academic and strategic planning, policy development, new initiative feasibility analysis, negotiations, budgeting and finance, human resources and informational technology.
About Bastyr
Bastyr University is a nonprofit, private university offering doctoral, graduate and undergraduate degrees, with a multidisciplinary curriculum in science-based natural medicine. Recognized globally for its rigorous curriculum and strong research, the 40-year-old University has a primary campus in Kenmore, Washington, and a second campus in San Diego, California. Bastyr's international faculty educate future leaders in the natural health arts and sciences, with an emphasis on integrating mind, body, spirit and nature.
For more information please visit: http://www.bastyr.edu/