Arlington Heights, Ill. (April 13, 2016) – Carlson Labs introduces Melatonin Gummies for the nights when counting sheep just isn't enough. Carlson Melatonin is a dietary supplement that gently promotes relaxation and a healthy sleep pattern, so you can fall asleep easier. And their gummy form makes them a convenient, tasty bedtime snack.
Melatonin is a hormone naturally produced by the pineal gland in the brain. It helps regulate the body's circadian rhythm, the internal clock that controls when we fall asleep and wake up. When it starts to get dark, our bodies begin to make more melatonin. When it's light, our melatonin levels quickly taper off. 
Disruptions in the sleep-wake cycle can occur for a variety of reasons, including bedtime light exposure from a tablet or smartphone, jet lag, changing seasons, working later hours, and poor vision. Melatonin production also decreases as we age. Help restore your body clock with Melatonin, so you can sleep soundly and wake up feeling revitalized and refreshed.
"We're very excited to launch Melatonin in gummy form for those experiencing occasional sleeplessness," says Carlson President Carilyn Anderson. "Not only are they great tasting and convenient, but our gummies are produced with the same high standards as all of our other supplements."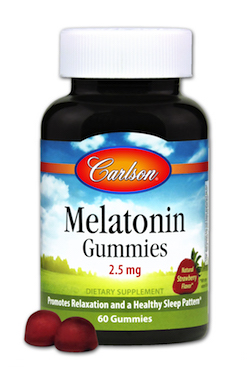 Since 1965, Carlson Labs has produced the freshest, purest, award-winning vitamins, minerals, fish oils, and other nutritional supplements. They launched at the forefront of the industry, offering the most complete line of natural-source vitamin E products in the world. They then paved the way for bringing fish oil and cod liver oil to the U.S. Market. In 2009, they launched calamari marine oil, and today, they're proud to bring you a product line of more than 200 innovative formulas designed with your family's unique nutritional needs in mind. For more information, call (888) 234-5656, check out their website at
www.carlsonlabs.com
, or visit your local natural food store. J.R. Carlson Laboratories, Inc. is located at 600 W. University Dr., Arlington Heights, IL 60004.
*This statement has not been evaluated by the FDA. This product is not intended to diagnose, treat, cure, or prevent any disease.