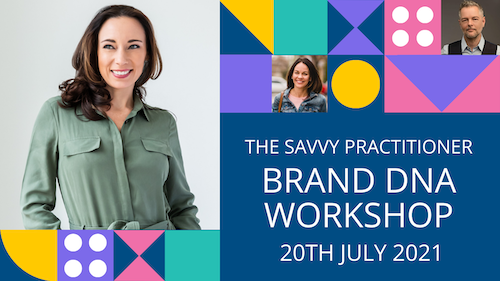 Join clinician branding experts Dr. Meghan Walker, E. Brian Johnson and Dr. Kristy Lewis at 9am PST on July 20th as they share how to write and implement a unique brand story that connects you to your ideal clients. You'll learn exactly how Savvy Practitioners build their personal brands to grow a successful practice today. This will be an interactive event and we hope to answer your questions live.
Over the last 18 months, more and more practitioners have moved their practices online. But what has been a success for health care delivery has forced many practitioners to finally get serious about how to grow their practice in today's digital environment.
That's why we teamed up with Dr Meghan Walker of Clinician Business Labs to develop an interactive clinician-focused branding boot camp.
Here's what you'll learn at the workshop:
Define Your Niche Audience and Make It Work
If you are having trouble attracting your ideal clients, we'll teach you 5 straight-forward steps to finding and defining your niche audience.
Uncover Your Unique Brand DNA
Learn how to differentiate your practice by focusing on your unique offering. Build loyalty and trust by always being 100% authentic.
Create Your Brand DNA Document
Uncover a series of powerful messages that speak directly to your ideal client. Create a swipe file for your website, blogs and social media. You'll never have to stare at a blank page again.
Align Your Brand with your Quadrants of Care
Transform restrictive one-to-one care delivery into Quadrants of Care. Learn how your authentic brand voice ensures your patients will remain engaged year round.
Watch. Learn. Participate!
Collaborate on branding exercises and guided activities with our clinician branding experts. You can ask questions at any time and even share your work.
Register for the Savvy Practitioner Brand DNA Workshop and uncover the clear and compelling brand story you'll need to connect to new clients and grow your practice.