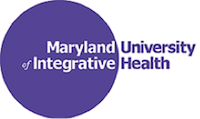 FOR IMMEDIATE RELEASE
February 19, 2018
Distinctive graduate program recognized as leader in academic quality, affordability, and online programming by BestColleges.com
Laurel, MD - Maryland University of Integrative Health (MUIH), a national leader in the education and practice of integrative medicine, health, and wellness, is pleased to announce that it's Master of Science in Health Promotion program has recently been named Best Online Master's in Health Education by BestColleges.com.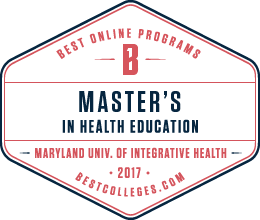 MUIH ranks #1 on the list of top online master's in health education programs in the United States based on criteria including academic quality, affordability, and online programming. The University is noted for its emphasis on developing a "scholarly online community where students learn valuable skills that prepare them for careers as compassionate healers."
"I'm proud of the fact that we have a truly unique curriculum within our program," said Claudia Joy Wingo, director of MUIH's health promotion program. "We give our students the platform to explore both conventional and integrative health from an evidence-based perspective, and believe that they can become change agents for population health in both the community and workplace."
Population health is an emerging field that considers and addresses both health improvements and the elimination of disparities. MUIH's Master of Science in Health Promotion features distinctive integrative health-based coursework focusing on practices such as mind-body medicine, physical activity, functional nutrition, health behavior change, and health maintenance. The program offers two concentrations: community health education and workplace wellness, and covers the education competencies required for graduates to pass the Certified Health Education Specialist (CHES) exam through the National Commission for Health Education Credentialing.
About Maryland University of Integrative Health (MUIH)
For nearly 40 years, Maryland University of Integrative Health has educated and informed practitioners and leaders in health and wellness through transformative and relationship-centered programs that draw from traditional wisdom and contemporary science. Progressive graduate degrees in a wide range of disciplines are offered both on campus and online. For more information, please visit www.muih.edu.
About BestColleges.com
BestColleges.com helps prospective students find the school that best meets their needs through proprietary research, user-friendly guides, and hundreds of unique college rankings. They also provide a wide array of college planning, financial aid, and career resources to help all students get the most from their education and prepare them for the world after college.
MEDIA CONTACT
Susan Larsen
410-888-9048 ext. 6763