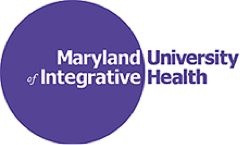 FOR IMMEDIATE RELEASE
August 6, 2018
Laurel, MD - Maryland University of Integrative Health (MUIH), a national leader in the education and practice of natural medicine, announced today that it has signed an articulation agreement with the George Washington University (GW) School of Medicine and Health Sciences (SMHS).
This agreement provides an accelerated pathway to admission and advanced standing in MUIH's Master of Nutrition and Integrative Health and Doctor of Clinical Nutrition programs for GW graduates with a Bachelor of Science in Health Sciences in Clinical Research Administration, Clinical Management and Leadership, or Clinical Health Sciences. In addition, graduates and current students in GW's Master of Science in Health Sciences' (MSHS) Integrative Medicine Programs who seek Certified Nutrition Specialist credentials may take up to nine credits from MUIH to become eligible for this certificate.
"We are pleased to provide a pathway to advanced education in integrative nutrition for students and graduates of GW's School of Medicine and Health Sciences," says Christina Sax, PhD, provost and vice president for academic and student affairs at MUIH. "Our mutual commitment to scientific and evidence-informed curricula and clinical practices serves to strengthen the role of nutrition in the delivery of quality healthcare."
"This partnership between GW and MUIH has been designed to provide students with the training and background they need to become leaders in the fast-growing field of clinical nutrition," said Leslie Davidson, MSEd, PhD, chair of the Department of Clinical Research and Leadership at GW SMHS. "GW's nationally recognized MSHS in Integrative Medicine and MUIH's cutting edge curricula in clinical nutrition come together to shape the future of evidence-based clinical practice in this area. Students will graduate with the necessary competencies for clinical practice and possess skills for clinical research, interprofessional practice, and serve as nutrition educators in any traditional or innovative setting."
About Maryland University of Integrative Health
Maryland University of Integrative Health is one of the nation's leading academic institutions for natural medicine. For nearly 40 years, MUIH has educated and informed practitioners and leaders in health and wellness through transformative and relationship-centered programs that draw from traditional wisdom and contemporary science. Progressive graduate degrees in a wide range of disciplines are offered both on campus and online. In the on-campus Natural Care Center and community outreach settings, MUIH provides compassionate and affordable healthcare from student interns and professional practitioners, and delivers more than 30,000 clinical treatments and consultations each year. For staff and faculty, MUIH offers a collaborative and vibrant work environment that is mission and values-driven. For more information, please visit www.muih.edu.
About the GW School of Medicine and Health Sciences
Founded in 1824, the GW School of Medicine and Health Sciences (SMHS) was the first medical school in the nation's capital and is the 11th oldest in the country. Working together in our nation's capital, with integrity and resolve, the GW SMHS is committed to improving the health and well-being of our local, national and global communities. smhs.gwu.edu
###