FOR IMMEDIATE RELEASE:
National University of Natural Medicine & Oregon Health Forum Host Health Panel on Opioid Addiction.  
The breakfast forum will be held on the NUNM campus and by streaming video on Aug. 24
PORTLAND, Ore. (Aug. 4, 2016)—More than 28,000 Americans die from opioid abuse every year. In Oregon, reported to have the second highest rate of opioid abuse in the nation, this alarming statistic has been a call to action.
National University of Natural Medicine
(NUNM, formerly National College of Natural Medicine or NCNM) will host an interdisciplinary medical panel discussion focusing on the overlap between pain therapy and addiction at a breakfast forum Wednesday, Aug. 24, sponsored by the Oregon Health Forum, the educational arm of The Lund Report.
The breakfast forum takes place from 7–9 a.m. at NUNM's Radelet Hall, located at 2719 SW Kelly Avenue in Portland. Breakfast will be served at 7 a.m. Free street and campus parking is available.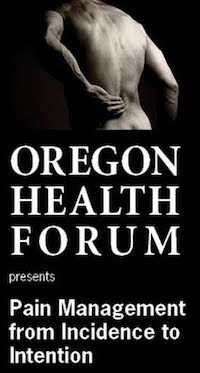 The forum will also be presented via
livestream
, a video platform that allows viewers to play the content on the web, iOS, Android, Roku, and Apple TV devices. People who register for this live webinar will receive a user name and password 48 hours before the event.
NUNM Health Centers Executive Director, Michael Sorensen said, "Natural medicine therapies have been proven to help manage pain and can address the critical need to find ways to reduce opioid dependence. We're excited to participate in this important event with the Oregon Health Forum and our medical colleagues."
The panel, moderated by NUNM Chief Medical Officer and Dean of Clinics, Dr. Regina Dehen, includes:
Dr. Katrina Hedberg, MPH, Health Officer & State Epidemiologist, State of Oregon 
Dr. Paul Lewis, MPH, Portland Metro Health Officer 
Dr. John Muench, MPH, Director of Behavioral Medicine, Department of Family Medicine, OHSU
Krista Nelson, MSW LCSW OSW-C, Providence Cancer Center 
Dr. Andrew Suchocki, Medical Director, Clackamas FQHC 
Dr. Kevin Wilson, Private Practice, Hillsboro, and Faculty at NUNM
Among the questions the panel of experts will discuss:
What place should opioids play in chronic pain management?
Considering the risk of tolerance and dependence, including the use of heroin, how are the treatments for opioid addiction and chronic pain related?
What policy changes have we seen to date and what will we see in the near future?
What assessments and evidence-based interventions need to be incorporated into the current healthcare delivery systems to improve patient outcomes with respect to chronic pain?
When we talk about the opioid epidemic, patients are often thought to be at fault for their addiction. What does the biopsychosocial model of care have to say about this? Who is responsible for changing the prevailing attitude?
The Forum is co-sponsored by the Quest Center for Integrative Health and the Oregon Physical Therapy Association.
ABOUT NUNM
NUNM is the oldest accredited naturopathic medical school in North America and the leading educational authority in natural medicine education and research. Founded in 1956 in Portland, Oregon as the National College of Natural Medicine, the school changed its name in 2016 to the National University of Natural Medicine to reflect its academic status as a university with the addition of undergraduate degree programs. NUNM also offers doctoral and master's degree programs in naturopathic and classical Chinese medicine, integrative medicine research, nutrition, and global and mental health. NUNM Health Centers, its SIBO Center for Digestive Health, and NUNM's affiliated Portland metro community clinics provide healthcare services to many thousands of patients in Portland each year. NUNM also offers community education through the NUNM Institutes. Visit
http://nunm.edu
for more information.