DALLAS, TX (November 9, 2017) – Better Nutrition magazine recently selected the revolutionary REG´ACTIV® Detox & Liver Health™ formula as a 2017 'Best of Supplements' Award Winner in the DETOX and CLEANSING category for the second year in a row.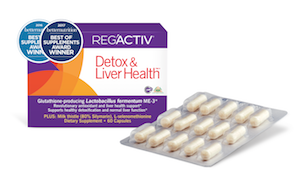 To select the winning products, the editors of Better Nutrition magazine conducted retailer surveys and tallied up votes from readers and staffers. The Better Nutrition Supplement Advisory Board, consisting of naturopathic physicians, health writers, and nutrition educators, considered the nominated supplements' quality of ingredients, reputation and the science behind the products. The winners will be featured in the November 2017 issue of Better Nutrition magazine.
REG´ACTIV® Detox & Liver Health™, launched in 2014, is a superior Glutathione supplement because it contains a patented and unique delivery system -- a living probiotic strain, Lactobacillus fermentum ME-3, that produces Glutathione within the body. ME-3 works through three pathways: synthesizing glutathione itself, promoting cellular uptake of glutathione, and regenerating "spent' glutathione back into its active state.
Glutathione is the most important antioxidant manufactured in the human body, so pivotal to our health that it is considered "The Master Antioxidant." Glutathione's most significant function is that of detoxification, so maintaining the body's supply is critical for good health.
An increasing number of studies link glutathione depletion with an increase in oxidative stress and a greater incidence of health conditions related to cellular aging. However, until recently, glutathione was not effective when taken orally because it breaks down during digestion and is not absorbed.
"Since glutathione's antioxidant activity is crucial for every cell in the body, the discovery of ME-3, a strain that can synthesize glutathione and boost levels in humans represents an extraordinary breakthrough in health and medicine," said Essential Formulas Director of Scientific Research Dr. Ross Pelton, RPH, CCN. For more information visit Essential Formulas. 
###
Kelly Charles
972-743-0373