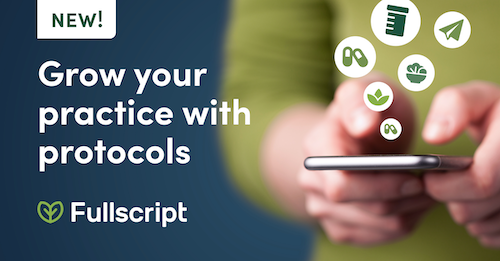 In 2020, Fullscript launched Shareable Wellness Protocols, a feature which allows practitioners to share protocols with all patients instantly, and even promote that protocol publicly to attract new patients. Links to protocols can be shared in emails, newsletters, private social media groups, and on a practitioner's website to reach new patients and increase orders of top-quality, affordable supplements. Using shareable protocols on Fullscript is also a great way to offer group care virtually, freeing up more time to do personalized care.
In 2021, we're taking shareable protocols to the next level. Where previously you could only choose to share your protocols with either one patient or all patients, you can now choose to share a protocol with multiple, specific patients. This feature allows you to create and share protocols that might be applicable to a specific sub-group of your patients, such as those participating in group visits.
Taking things a step further, this update also allows protocols to be shared with other healthcare practitioners within a Fullscript dispensary, allowing you to seamlessly collaborate with your peers.
Overall, shareable protocols allow a practitioner to spread wellness further, in a fraction of the time, by:
Offering group visits
Making general health protocols available to anyone
Sharing protocols with your peers
Using protocols as a starting point for individual treatment plans
About Fullscript
Fullscript is a free online supplement dispensary that integrates with any practice. Switch between virtual dispensing, stocking supplements in-office, or one-to-many care to create a dispensing mix that fits your workflow. Use Fullscript to help automate refills and strengthen patient relationships from any device — or even within your EHR.