OncANP PR Committee
Over 80% of people with cancer are choosing to use natural medicine alongside their conventional treatments.1,2 Naturopathic Doctors (NDs) trained in integrative cancer care are qualified to play an important role in the lives of these patients. They provide evidence-informed guidance on safe and effective use of natural and supportive therapies, when combined with standard treatments.
Naturopathic medicine is a distinct primary health care profession emphasizing education, prevention, treatment and optimal health of mind, body and spirit. Therapies include clinical nutrition, botanical medicine, acupuncture, physical medicine and lifestyle counseling. Combining conventional medicine and naturopathic medicine supports the pursuit of best possible outcomes for patients.
With an integrative oncology approach, all providers work together to improve quality of life. The goal of collaboration is to support optimal health and well-being: physically, mentally and emotionally.
Patients benefit from collaborative care at all stages
At the time of diagnosis: to educate the patient and plan for care.
During active treatment: to reduce side effects and support the outcomes of conventional care.
Post-treatment: to help with recovery and support prevention of recurrence with healthy lifestyle education.
Medical Oncologists, Surgeons and Radiation Oncologists focus standard of care treatment to target tumor eradication.
NDs in integrative cancer care use natural and supportive therapies to reduce side effects, to support conventional care, and prevent recurrence. NDs are important advisors, offering education and evidence-informed guidance for patients and oncology providers.
NDs complete pre-medical undergraduate studies and graduate from federally recognized and regionally accredited professional programs of naturopathic medicine. Graduates are eligible to take national or provincial licensing examinations.
INTEGRATIVE ONCOLOGY AMONG PROVIDERS IS COLLABORATIVE CARE
Combining CONVENTIONAL MEDICINE and NATUROPATHIC Medicine supports the pursuit of best possible outcomes for patients.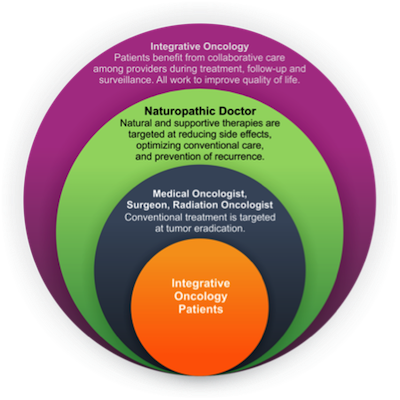 The Oncology Association of Naturopathic Physicians (OncANP)
The OncANP is a leading professional organization in North America for licensed NDs and students. OncANP advocates for collaboration among providers, and is dedicated to advancing the science and application of naturopathic medicine within the field of standard cancer care and treatment. Established in 2004, the OncANP is a recognized affiliate of the American Association of Naturopathic Physicians (AANP).
The OncANP supports Advanced Training of Naturopathic Doctors in Oncology. Successfully board-certified members are awarded the status of Fellow by the American Board of Naturopathic Oncology (FABNO). These Fellows meet the highest standard of the profession.
Research in integrative oncology is substantial and ever-growing. NDs in cancer care focus on the highest quality human data for clinical decision-making. Many studies report safe use of natural therapies in humans with positive outcomes for improved quality of life, side effects management, treatment response and survival.
The OncANP is committed to improving the knowledge of integrative oncology research within the naturopathic profession. In 2016, it launched The Knowledge in Naturopathic Oncology Website (KNOWoncology.org) for its membership; a database of human clinical trials in integrative oncology.
Attend the 7th Annual OncANP Naturopathic Oncology Conference in Phoenix, Arizona, February 16-18, 2018. www.oncanp.org/events
Richardson MA, Sanders T, Palmer JL, et al. Complementary/Alternative Medicine Use in a Comprehensive Cancer Center and the Implications for Oncology. J Clin Oncol 2000 Jul;18(13):2505-1
Patricia L. Judson, MD, Reem Abdallah, MD, et al. Complementary and Alternative Medicine Use in Individuals Presenting for Care at a Comprehensive Cancer Center. Integrative Cancer Therapies 2017, Vol. 16(1) 96–103