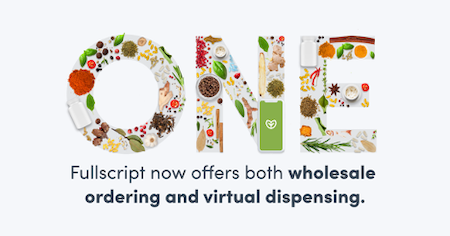 Wholesale Ordering now Available on Fullscript
On your shelf, and online.
Dispense with one platform.
Wholesale ordering is now available on Fullscript.
SCOTTSDALE, AZ, October 13, 2020 - Fullscript and Natural Partners merged in June 2018 to become the new leader in integrative medicine as Natural Partners Fullscript. In 2020, we're finishing what we've started by melding Natural Partners and Fullscript into a single platform and brand. Under the banner of Fullscript, we are officially the only supplement dispensing solution to offer wholesale and virtual dispensing on one platform.
Fullscript was the world's first virtual supplement dispensary and is now a comprehensive platform that integrative healthcare professionals use to dispense the best quality supplements. It also helps practitioners manage and grow their practice with patient engagement and adherence tools. We're one platform for wholesale, virtual, and everything in between.
Fullscript's new wholesale ordering feature includes access to a bigger catalog, and the industry's best product search, making it the only supplement dispensing solution practitioners will ever need.
Visit the Fullscript website to learn more about Fullscript's other features.
Fullscript is the ultimate free platform for those who want to do wellness the right way — the personal way — from anywhere. This dispensary has the most comprehensive catalog, integrates with EHRs, automates refill reminders, and offers evidence-based resources for both practitioners and patients. It's an always-accessible solution that helps people get better.