According to the Centers for Disease Control and Prevention (CDC), 1 in 3 Americans have prediabetes and more than 84% don't even know they have it. That's one reason that addressing prediabetes in clinical practice is absolutely critical. In this interview, Robert Graham, MD, FACP, who is board-certified in both internal and integrative medicine, discusses his approach to identifying, reversing, and treating prediabetes. Graham will also highlight some key natural blood sugar stabilizers that he uses in his practice.
Approximate listening time: 29 minutes
Continuing Education Credits Available
This podcast interview qualifies for 0.5 general continuing education (CE) units. The Oregon Board of Naturopathic Medicine has approved this educational content for 0.5 "general" CE units for naturopathic physicians. Naturopathic physicians licensed in any U.S. state except California may obtain general CE by listening to this podcast and completing a 10-question test on the material contained within the clinical topic. Click the button below to take the test for FREE, thanks to an educational grant from Sugarbreak. Upon successful completion, you will receive an email confirming you passed. This CE approval may also qualify for the CE requirements of other practitioner types.
About the Expert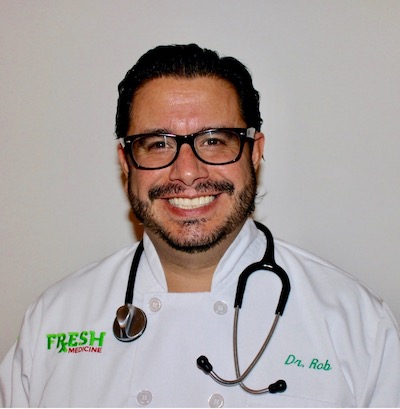 Chef Robert E. Graham, MD, MPH, is the cofounder of FRESH Medicine an integrative health and wellness center in NYC. FRESH is an acronym for their five ingredients for health: food, relaxation, exercise, sleep, and happiness. Graham is a Harvard-trained physician, board-certified in internal and integrative medicine, who obtained his culinary degree from the Natural Gourmet Institute. In 2019, he launched an online school called FRESHMEDU with his wife Julie and developed a line of medically tailored meals with Performance Kitchen. Follow their work at @freshmednyc.
Graham received his medical degree from the School of Medicine at Stony Brook University Medical Center and completed his residency in internal medicine at Lenox Hill Hospital. He earned a masters of public health from the Harvard School of Public Health while completing 3 fellowships in general internal medicine, complementary and integrative medical therapies, and medical education at Harvard Medical School.
About the Sponsor

As it stands, 77 million Americans are pre-diabetic and almost 90% are unaware of their condition. Fortunately, our society is becoming aware of the problem. In fact, almost 90% of Americans are actively trying to reduce their sugar intake. But when it comes to sugar and diabetes, options have been limited; either pharmaceutical drugs for more severe cases or lifestyle changes reliant on willpower.
Sugarbreak's co-founders are all veteran entrepreneurs who have spent their careers building solution-oriented products that improve millions of lives, and their next challenge is confronting sugar. They set out to create a plant-based, natural solution that helps consumers manage their blood sugar as part of a healthy lifestyle, without completely altering their daily lives or costing them an arm and a leg financially.
Sugarbreak is the first natural, non-prescription support system that empowers you to reduce your sugar intake and manage healthy blood sugar levels to support overall health. Sugarbreak products are made with natural, herbal ingredients that have been scientifically-tested in over 20 clinical studies and are proven to curb sugar cravings, minimize post-meal blood sugar spikes & crashes, and promote healthy blood sugar management. All of their products are Non-GMO, Gluten-Free & Allergen 8 Free, and their adult line is Vegan.
Sugarbreak is backed by a world class scientific advisory team, including an endocrinologist, integrative & internal medicine physicians, the head of eating & weight disorders at Mount Sinai, a registered dietitian, sugar addiction expert, pediatric specialist and more. Sugarbreak exists outside the pharmaceutical complex and works alongside leading scientists and clinicians to provide the research and evidence you deserve. Managing your blood sugar at any age is now Natural, Safe, Effective, & Easy.
Sugarbreak products are available through Emerson Ecologics, in Target stores nationwide in the Diabetic Care & Diagnostics section & on Target.com. Sugarbreak is also available at select CVS Pharmacies & on CVS.com, HyVee Groceries, and on Thrive Market.
Use code NMJ15 at checkout for 15% off your order on www.sugarbreak.com.