The
Natural Medicine Journal
team was excited to meet the winner of our 2016 subscriber study, Lauren Marcoullier, DC, at IGNITE 2016. Marcoullier received two full conference passes and a hotel stay at
IGNITE
, sponsored by one of NMJ's key partners,
Emerson Ecologics
.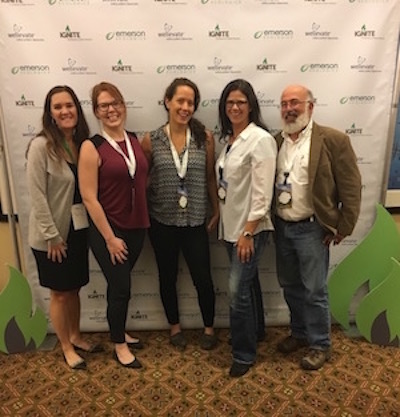 Left to right: Jaclyn Chasse, ND, Vice President of Scientific & Regulatory Affairs of Emerson Ecologics; Kelsey Botterman; Lauren Marcoullier; NMJ Editor-in-Chief Tina Kaczor, ND, FABNO; NMJ Abstracts & Commentary Editor Jacob Schor, ND, FABNO
Marcoullier and her guest, Kelsey Botterman, attended the conference, which took place October 13-16, 2016, in Santa Ana Pueblo, New Mexico. "The weekend was wonderful, full of fun, and very informative," said Marcoullier, who is in the final year of earning a naturopathic degree from National University of Health Sciences in Lombard, Illinois. "All of the speakers were inspirational and provided clinical pearls and resources we don't get in school. It was an incredible opportunity, and we're so thankful for the chance to attend."
NMJ will be conducting another subscriber feedback survey in 2017. We are grateful to Emerson Ecologics for their ongoing support of the journal and for donating this year's prize package.
About Natural Medicine Journal
Natural Medicine Journal
is a cutting-edge electronic journal and website for integrative healthcare practitioners, students, faculty, and anyone interested in the field of natural medicine. Readers of the journal and visitors to the site will find scientifically valid, clinically relevant information within the peer-reviewed monthly journal and online resources.
Sign up
to receive the journal for free in your inbox each month. 
About Emerson Ecologics
Founded in 1980,
Emerson Ecologics, LLC
, is committed to the success of integrative healthcare practitioners as they deliver unsurpassed patient care. As a dedicated partner, Emerson Ecologics offers its customers the broadest selection of professional-quality products and continues to expand its comprehensive suite of educational and practice management tools to help practitioners achieve success. Headquartered in Manchester, NH, with distribution centers in Virginia and California, Emerson Ecologics is NSF certified, VAWD accredited and is the founder of the Emerson Quality Program® (EQP). For more information, visit
emersonecologics.com
or
www.wellevate.me
.