The Oncology Association of Naturopathic Physicians (OncANP) is on a mission to advance the philosophy, science, and practice of naturopathic oncology. In this interview, Erica Joseph, ND, FABNO, discusses important issues associated with naturopathic oncology, including collaborating with conventional oncology, past research, and future objectives.
Approximate listening time: 17 minutes
About the Expert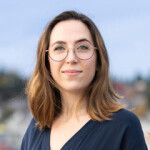 Erica Joseph, ND, FABNO, is a board-certified naturopathic oncologist and acupuncturist practicing at Seattle Integrative Oncology (SIO), where she completed a 2-year oncology-based naturopathic residency. She received her doctorate in naturopathic medicine, as well as a master's degree in acupuncture, and a bachelor's degree in psychology and biology from Bastyr University. Joseph currently sees patients in both private practice and at the Providence Regional Cancer Partnership in Everett, WA, where she helps lead the integrative cancer care program. The private practice of Joseph and her colleagues at Seattle Integrative Oncology proudly provides one of the few naturopathic residencies in the Pacific Northwest. Outside her practice, Joseph has served as president of the Oncology Association of Naturopathic Physicians (OncANP) since 2021. She is also a peer reviewer for the Journal of Integrative and Complimentary Medicine (JICM) and a contributor to the Natural Medicine Journal.